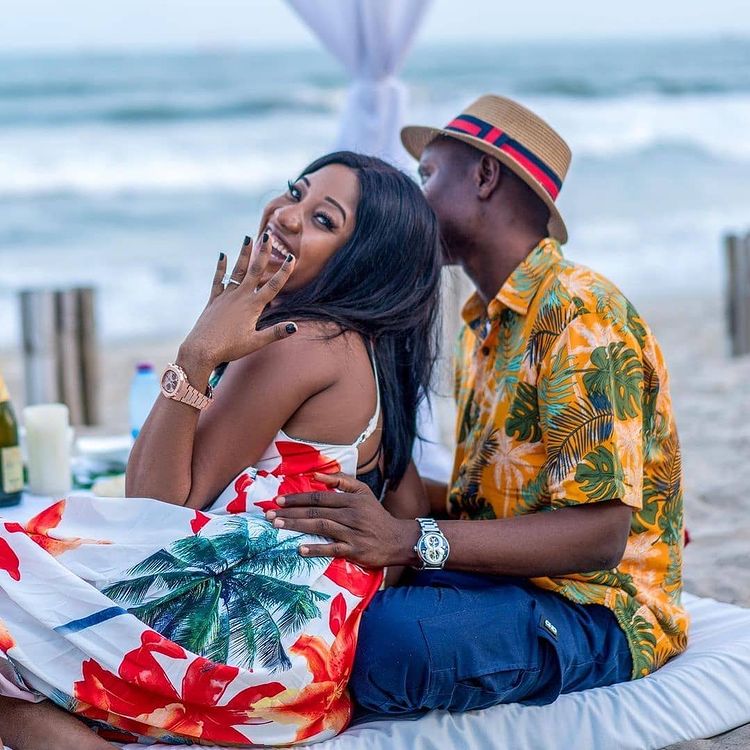 Prices of Wedding Rings in Ghana
There are so many common myths and misconceptions about the varying prices of wedding rings in Ghana; this makes it hard to know how much to spend when you're shopping for your significant other. We at rings4lessgh are here to help you clarify some of the misconceptions and wrong speculations to help you make informed decisions. Note that a wedding ring does not have to cost you your life savings. With the right info, you can boldly go for what suits your budget and your lifestyle. Let's hop in!
What are the average prices of wedding rings in Ghana? 
It is common knowledge that the ring is basically a representation of your relationship, but let's be honest when it comes to buying the ring itself there are lots of things to consider like the size, the type and quality metal chosen, the centre stone (size, type, colour), the side stone and closes to a million other things you would like to consider. Promise/Engagement rings cost GHC 250 and above. The prices of wedding rings in Ghana are usually based on the type of ring you are in the market for. We have provided below some of the average prices of wedding rings in Ghana.
| | |
| --- | --- |
| Ring Type | Price in GHS (Ghana Cedis) |
| Gold | 1800 and above |
| Silver | 300 and above |
| White Gold | 2000 and above |
View this post on Instagram
| | |
| --- | --- |
| Type | Price in GHS ( Ghana Cedis) |
| Classic | GHC 500 |
| Royal | GHC 500 |
| Silver Brown | GHC 500 |
| Silver Gold | GHC 500 |
| Silver Marker | GHC 450 |
| Silver Bridal | GHC 450 |
| Silver square | GHC 500 |
| Sterling silver | GHC 500 |
| Sterling silver with no gemstone | GHC  350 |
| | |
| --- | --- |
| Gold rings | Average Price range |
| 9k | GHC1800 upwards |
| 10k | GHC2000 upwards |
| 14k | GHC2200 upwards |
| 18k | GHC2700 upwards |
| Rose gold | GHC1800 upwards |
 READ ALSO: How to Buy Wedding Rings in Ghana – Types of Wedding Rings
The Average Cost of Wedding Bands
A wedding band is usually exchanged at the wedding ceremony as the representation of the union of marriage. While the biggest jewellery cost is commonly the engagement ring, wedding bands are also a budgetary factor to contemplate on. In Ghana, a good wedding band should set you back an average of GH 350 and above. They usually come in the forms of White gold (the most popular wedding band material), while rose gold, yellow gold, and silver seems to be the favourite of most Ghanaians. Or they could be quoted with these materials. Know that the form the ring takes will determine how much it will cost. 
View this post on Instagram
What to expect when buying a wedding ring in Ghana 
 At ring4lessgh we know that most Ghanaians in our time don't treat getting a wedding ring with much-needed seriousness because they think that it is easier to get a cheaper one on the market or they think that bigger is much better. No matter your general perception of wedding rings, the most important thing you need to consider when getting a ring for your significant other is the price.
Don't avoid getting her input.
A lot of people don't consider the opinions of their significant other when getting them a ring with the hopes of surprising her, but the thing is women/people, in general, have preferences. Some may want it as elaborate as possible, others want their ring to be quite simple. So do a little digging around and ask her friends or her family about their own opinions on rings or you could ask her about her opinions on wedding rings.
When doing your research for the perfect ring try to find something that does not seem ordinary, something different. If you cannot find something that has the "je ne sais quoi" you need, then you could spend those extra cedis on a jeweller to customize your rings.
Some people think that you can find a really beautiful carat ring for cheap, but the truth is that if you want a diamond on it or if you want it to be covered in gold, then you must be prepared to pay that extra thousand GH cedi for it. Remember that it is super unlikely to find an actual diamond ring or an actual carat ring online, except for a few online shops like ours. We recommend coming straight to the source (ring4lessgh), where our experts will help you find the best possible stone cut ring on budget. We have the tools to prove the quality of our rings to you. Check out the video below. 
View this post on Instagram
Don't think that bigger always means better.
 No ring will be perfect but strive for the best ring that you can get. This is very applicable especially when it comes to getting a diamond ring, most grooms want their partners to get the biggest diamond they can get on budget, without considering the quality. For such grooms, we say research the 4 Cs of diamond grading before you even leave your home. The 4 Cs are discussed later in the article. 
Ring size matters


Do your best to find out her ring size ahead of time if possible. This will make your final purchase much simpler.
 READ ALSO: How to measure your ring size 
How to find the best ring for a relatively cheaper price in Ghana. 
Girls don't always "NEED" diamonds
Though it is said the Diamonds are a girl's best friend they can be quite pricey. So you could find yourself an alternative stone. The prices of wedding rings in Ghana and beyond will vary based on the type of stone you want out of the ring, to save money you should know that there is a whole list of alternative stones out there, and the advantage of these stones to diamonds is that they come in an array of wonderful colours. Some of these alternative stones include Glass cut stones, Rubies, Crystals, Emeralds, Morganite, Tanzanite, Opal, and Amethyst the list goes on and on. Speak to us about any of these and we'll do our best to deliver them to you.
 The best thing you can do for yourself and your money is to not always buy at the first shop you find there are so many jeweller retailers now. If you should search online for the prices of wedding rings in Ghana you will be sure to find a good number of sites offering you the best for your money, but the problem with these shops is that they may not give you what you actually ordered from them so try finding an authentic shop that you know is not solely online-based. Usually, rings bought at large eCommerce shops like Alibaba have to factor in costs like sales tax, shipping, return shipping, and shipping insurance should you require it; which could end up being a farce because the ring you may receive could possibly not be what you ordered. If you are in Ghana, do visit any of our shops in Accra or Kumasi or compare prices on our Instagram page
Stick to Your Ring Budget
Always have a ring budget, sometimes it could mean getting a relatively cheaper one online. No matter your general view on what ring to get, make sure to have a price range and what you are willing to pay as an extra fee, if the need should arise. 
These Cs are Cut, Color, Clarity and Carat weight. Use this especially when getting a diamond ring. It could help you determine if you are being played for a fool. 
We understand that electing your dream engagement ring is one of the most significant purchases you'll ever make. Lucky for you we have curated rings that will help you save money without actually sacrificing the beauty of your wedding ring/band.
View this post on Instagram

Traditionally the groom buys the engagement ring, in these changing times some couples decide to split the cost. Whatever the case is, you should get a ring that will last you a lifetime. So now that you have seen the prices of wedding rings in Ghana, don't hesitate to browse through our collection or contact us directly on whatsapp for inquiries.