How to Buy Wedding Rings in Ghana – Types of Wedding Rings
Planning for a wedding is such an exciting time but what's better than finding all the items you need in their highest quality, yet at the best rates? Yes, it's possible to get the best wedding rings in Ghana and at the most competitive prices. If you are reading this post, you are fortunate because you will not leave without finding the exact type of ring that will best suit your personality and that of your spouse. Let's jump right into it.
Wedding rings in Ghana: What to do first
The first thing to do when searching for that perfect wedding ring set is to measure your finger sizes. Most jewelers and sellers have tools to easily measure your finger size but interestingly you can actually do that right from the comfort of your home. Here's how to measure your finger size.
Where to look
There are thousands of shops where you can actually buy wedding rings, whether you are looking for men's wedding rings, women's wedding rings or what we call "the wedding set", which includes the engagement ring. But not all of these sellers actually sell genuine rings. What if some of the rings are just gold quoted and not real gold?
These days, many people are being scammed and it's best to go with companies who have built a good reputation for selling quality rings over the years. How will you know their rings are quality? Reviews. Yes, the reviews of a company tell a lot. That is why at Rings4less, we do not joke with our IG page which has a lot of positive feedback from people who have purchased our rings. When we say no fade no rust, we mean it. 
And wouldn't you rather want to get your items from the comfort of your home at a hectic time like this? Our IG page helps us to keep our customers updated on the rings we have every time. Follow us! We are also on Whatsapp; a click away. Even better, you can pay online or choose to pay on delivery. 
View this post on Instagram
Types of wedding rings 
The Three Rings of Marriage: Engagement, Wedding, and Eternity.
It's not until you start your wedding ring shopping that you realize just how many different types of rings there are, and we're not just talking cut and colour.
Did you know there are three traditional rings of marriage, and they all have different meanings and are given at different times? I'm sure you are wondering, "Why are there 3 rings in a wedding set?" If you're looking at promise/engagement rings, wedding bands, and eternity rings with a mixture of fear and confusion, wondering which one you need and why take a breath and keep reading.
Promise Rings or Engagement Rings
Engagement rings can be used as promise rings and vice versa. Thankfully, engagement rings are fairly self-explanatory. These rings are for the proposal, the heart-pounding, get-down-on-one-knee, pop-the-question moments. In Ghana, however, the engagement is also known as the customary marriage or the traditional marriage and it happens right before marriage under ordinance or the white wedding. 
View this post on Instagram
Engagement or promise rings are the ones that are generally flashier and feature at least one centrepiece stone and possibly some other decorations and details. Typically, only women receive and wear engagement rings. 
Wedding Bands
This is where people sometimes get confused. Many think that the only ring you buy is the engagement ring, but if you're following tradition, you'll also want to get a matching wedding band. The band is simple, usually plain metal with no stones or set with very small stones and possibly a heartfelt engraving on the inside.
View this post on Instagram
Wedding bands are the ones you exchange during the wedding ceremony. Both bands can match, or they can reflect the couple's individual styles. It's completely up to you! There really is no right or wrong way to do rings – if you want both an engagement ring and a wedding band, or one or the other, there's no reason not to do what you feel is right.
Eternity Rings
The final addition to the ring list can be given any time between the first wedding anniversary and the rest of your lives. If the wedding band is the "I do," the eternity ring is the "I do, forever." It's a bit like a tangible vow renewal and re-commitment to your marriage and spouse.
View this post on Instagram

Eternity rings are traditionally given on a significant anniversary, such as the 10th. This isn't a rule that's set in stone, however. You can choose any anniversary you want, earlier or further down the road. Every marriage is unique!
Each ring is given at a different time, for a different reason, but there really are no rules. There is only what is right for each individual couple.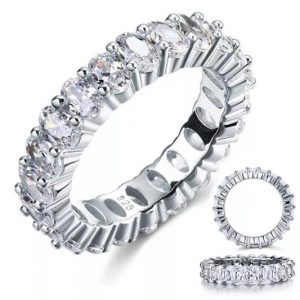 Prices of wedding rings in Ghana
If you are looking for the latest wedding rings in Ghana, you're most likely looking to see prices. We have the widest variety of wedding rings and prices and these can be found on our Instagram page. 
Whether your search term was 18karat gold ring price in Ghana or 14 karat gold ring price in Ghana, all this information is just a click away. Contact us now! 
View this post on Instagram
Our Shop
Our Shop is located at Dansoman, Opposite St. Martin De Porres School. If you prefer to shop in person, do stop by our showroom and you will be WOWed at the variety we have. Here's a brief list below to give you an idea: 
Gents Rings

Ladies Rings

Promise Rings

Engagement Rings

Wedding Rings

His and Her Sets

Unique and Unusual Rings
In conclusion, if you want to know what's trending in the world of rings, stay in touch with us by following us on IG. We are here to support you through every stage of life where you will need a ring and don't forget that our prices are the best for the top quality we offer. Rings4less, NO FADE, NO RUST!