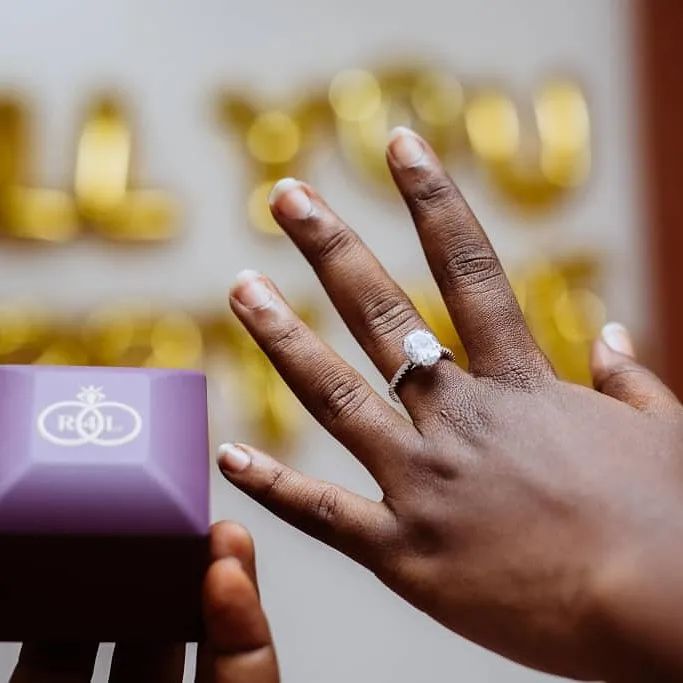 Buying a Promise Ring in Ghana
The Promise ring is the best way to compress all your feelings into one when you find the one you love and you want to make it official. Because it's special, you want to make sure that you are buying a promise ring in Ghana that can express all the love in your heart to your loved one. There's probably a style you have in mind but the type of metal also matters. 
In this article, we will be looking at the various metals used to make Promise rings and also comparing prices. And oh… Just in case you didn't know this, Promise Rings are also the same as engagement rings. So if you happen to see engagement rings on our IG or Facebook page, know that you can equally purchase that as your promise ring. 
View this post on Instagram
What to look out for in promise rings 
When purchasing a promise ring in Ghana you should not focus only on the diamond or the Gold and platinum because they aren't your only metal options when buying an engagement or a promise ring!
Promise rings in Ghana and their prices like we said before will depend on the type of metal used. For this reason, we have listed a couple of alternative inexpensive metals for your promise rings in Ghana.
STERLING SILVER
 Durable and Lighter than gold this type of metal has a quality that makes it an ideal choice for jewellery that will be worn daily or often. It's the most affordable of precious metals. Sterling silver is actually pure silver mixed with copper or any other metal to make it more durable. 
Cost at Rings4lessgh:  such rings at our shops will cost you an affordable rate of GHs 250 to GHs 450
Care: Silver tarnishes, so make sure to have a silver polishing cloth. You can also use these three methods for heavy tarnishing.
READ ALSO: How to Buy Wedding Rings in Ghana-Types of wedding Rings 
View this post on Instagram
GOLD
Gold is a sturdy and durable metal that has always been the standard for promise rings in Ghana and in most communities because it will not corrode, tarnish or rust. Gold has a natural warm yellow hue that makes it a preferred choice for a lot of promise rings in Ghana. Rings made from gold can take the form of:
Yellow Gold: This is pure gold mixed with a little silver and copper for a warmer look.
White Gold: This is also made from pure gold which has a combination of palladium and silver or with nickel, copper and zinc. Rhodium plating option improves whiteness and durability.
Pink and Rose Gold: This is quite popular. It has reddish gold options that are pure gold plus copper. 
Green Gold: this type of ring appears yellowish-green; it is a combination of pure gold plus silver.
Cost at Rings4lessgh: we have in stock options for both men and women within reasonable price ranges of Ghc 800 to Ghc3000 
Care: Simply buffer your gold promise ring with a soft cloth to keep it shiny and smooth. However, apart from normal rinsing /sanitizing of the hands, you're advised not to bath, wash, or gym with the ring on. You can also use these three methods for heavy tarnishing.
View this post on Instagram
STAINLESS STEEL 
Stainless steel is a highly durable metal and its durability allows it to withstand the wear and tear of everyday activities, which can otherwise damage a ring. This type of metal is hard and resists scratches and corrosion thanks to an invisible layer of chromium; this makes it a wonderful metal of choice for body jewellery. When looking for promise rings in Ghana, do consider this. 
Cost at Rings4lessgh: 
Care: You can clean stainless steel jewellery easily with dish soap, water and a soft cloth. You can also use these three methods for heavy tarnishing.
READ ALSO: Prices Of Wedding Rings In Ghana 
READ ALSO: How to care for silver and gold rings
Promise ring VS Wedding ring. What is the difference?
Traditionally the promise or engagement ring is given by the male partner, to the female partner to symbolize and indicate that one is engaged to be married. The engagement ring typically has one dominant station which either stands alone or is surrounded by smaller stones.
The wedding ring in contrast is usually exchanged at the wedding ceremony as the official symbol of the union of marriage; they are not as elaborate as promise rings.
While men wear wedding rings only in most cases, women wear both promise rings as well as wedding rings. Both the wedding ring and the engagement rings can sometimes be soldered together or can be worn together. 
View this post on Instagram
In conclusion, we hope that this article was informative as well as educational. Buying a promise ring in Ghana is now much easier and safer with Rings4lessgh as we offer home delivery as well as a walk-in. Do contact us whenever you are ready.